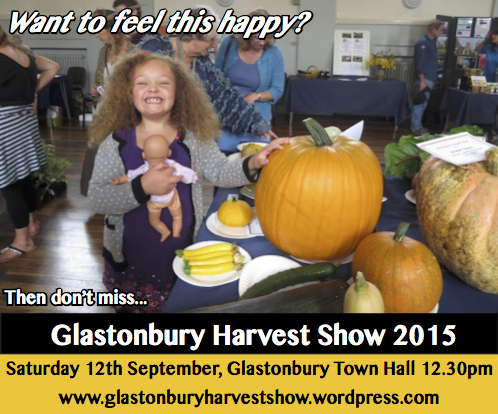 Glastonbury Harvest Show highlights the importance of local food & community, and celebrates the joy & benefits of growing your own produce.
It is in its eighth year and takes place annually at Glastonbury Town Hall.
The date of the next Harvest Show is Saturday 12th September 2015.
What will be taking place?
Members of Glastonbury Country Market will provide refreshments all day
There will be stalls selling local produce and displaying information about local food projects
There will be a whole host of activities going on, click here to find out more.
The event is supported by Glastonbury Town Council, Glastonbury Gardeners' Group, Feed Avalon, Mendip Community Credit Union, Incredible Edible Somerset, Oaklands & Sweetacre nurseries, Torganics & Somerset Community Food.
Rosettes are sponsored by Glastonbury Spring Water.
Many thanks to all of the organisations that have donated prizes – a full list of their names will be displayed on the day.
Timetable of Events (subject to change)

Show entries to be received: 9:00-10:15 am
Judging: 10:30-12:15 pm
Show open to the public from 12:30 pm
Prize winners collect prize money: 12:30-2:45 pm
Award of prizes and rosettes: 1:30 pm
Raffle drawn: 2:30pm
Afternoon activities: see below
Auction of Produce: 3 pm (any entries not collected by 2.55 pm will be auctioned)
Afternoon Activities
Opportunity to talk to local food-related groups and organisations
In celebration of the 'International Year of Soils', members of Feed Avalon will be holding a Soil Surgery 1:00-3:00 pm. in the small hall. Bring a sample of your soil to discover how it could be improved.