Written by Hannah from Feed Avalon.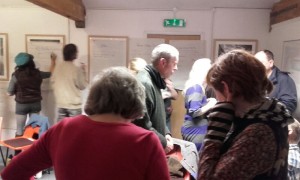 A great start to 2016 and what an amazing event this is becoming, moving from strength to strength. As we all settled in, squeezing in the latecomers! We had around 30 participants this time, with an increasing spectrum of skills, offers and requests being shared.
What is sprouting, is a healthy network of folks engaged in the food system. From food growers and land owners, to food producers and hosts of product development spaces, to food outlets and cooks. There was also talk of 'closed loop' waste recycling, into compost and worm food!
There were many announcements: Feed Avalon's up and coming courses, Plotgate CSA scheme launch, Excalibur organic local food restaurant to open on Glastonbury high street in March, Hej Gro looking to expand into a workers co operative, C1 community production kitchen and training space ready to welcome more support and more.
A great networking event with a buzzing atmosphere, as people came together, discussing their ideas and what potential is possible.
Everyone introduced themselves and their interest or offer, to the group. The announcements were made and then everyone took part in a lively activity focused around their current and ideal food patterns. Getting everyone discussing what trends the group had and what challenges can be overcome.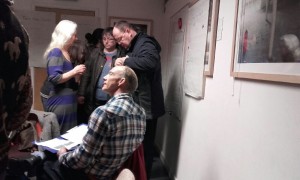 Food for thought…. Then, food for the belly… Everyone tucked into a wonderful pot luck spread, brought together by the participants, whilst we all chatted and made future plans and arrangement.
A very successful event and we do hope to see you at the next one.
If you are a grower, would like to volunteer, are starting or have a food production business, want to be involved in the food distribution chain, including recycling waste and making soil, also just wanting to learn more about what courses are available, come along to the next event. Join our flourishing community.
Watch this space for details of the next community food forum or register your details with us to receive email updates of our extensive range of workshops and of course, the next community food forum.
We all look forward to seeing you there.
To get involved in helping organise the next Food Forum email: hannah@feedavalon.org.uk